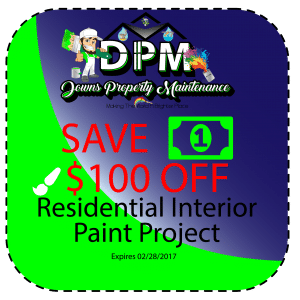 Save $ Money
Downs Property Maintenance is offering a coupon to Save $. $100 off your next interior paint project. This offer is valid for any interior paint project that includes three rooms or more. Whether you are just sprucing up the place with a single coat of paint matching the existing color. Or you are going for something a little more dramatic. Maybe a full-color change to add some definition and character to your space. Whatever your choice may be, we have got you covered. 
Before we crack open that first can of high-quality Sherwin-Williams or PPG paint. We are going to give you our professional opinion in the form of a 100% free estimate. We will smoothly guide you the process of helping you pick out beautiful coordinating colors. All the while giving you upfront professional advice at no extra charge. We are going to make your dream home become a reality. 
Coupon Terms & Conditions
Coupon is good for a one time discount of $100 off total invoice. Coupon is only valid if three or more interior rooms are being painted. Coupon is only valid for residential customers. Coupon can not be used in combination with any other promotion or discount offered by Downs Property Maintenance or any of its affiliates. Coupon not valid after 02/28/2017
Connect With Us On Social Media
Connect with Downs Property Maintenance on social media platforms like Facebook, Instagram, and YouTube. Don't forget to subscribe to our blog or newsletter. Don't miss out any of the awesome content we are putting out on social media. If you are a DIY person you will definitely want to follow us on YouTube for our home improvement tutorials. Connecting with us will ensure that you will be among the first know when we post a project update, finished project photo, discount, or tutorial. Thanks for stopping by to read our post. Have a wonderful day.