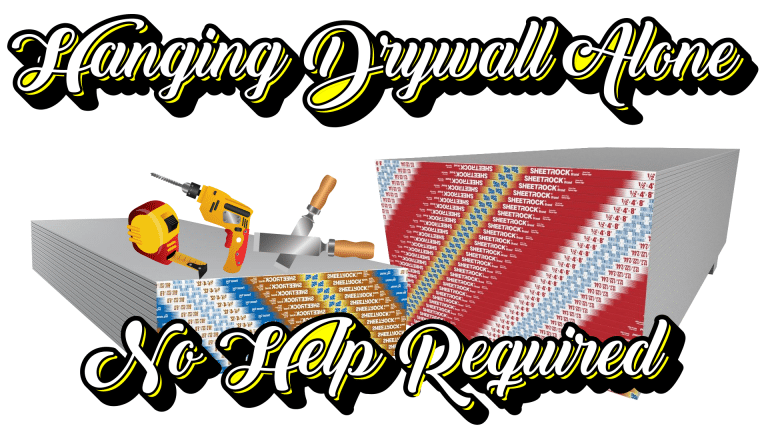 DIY Drywall
Downs Property Maintenance is a small painting & property maintenance business located in Columbus, Ohio. I wanted to share this DIY Drywall Installation tutorial with all of you. Learn a simple efficient way to install drywall alone.  Recently I did a drywall installation job for a regular customer of ours that owns many rental properties in the OSU Campus area. These rental properties are very old. Most if not all have plaster and lathe ceilings and walls. If you know anything about older properties, you know that eventually, the plaster starts to give, especially after 100+ years.
This tutorial is not a step by step process of how to install drywall, it is a tutorial on the system I came up with to hang drywall on a ceiling by yourself. This DIY drywall system that I came up with doesn't require any special tools or equipment. In fact, the materials I used are materials that most contractors would normally have on hand. Check out the video below to see what I came up with.
Drywall Installation Yourself
Thanks for watching the video tutorial "DIY Drywall". I worked hard to create this tutorial for all of the small business owners, contractors, and homeowners that want to learn how to install drywall on a ceiling without the aid of another person. If my drywall installation tutorial helped you out with your project please leave a like & comment. Should you really like this video or know someone else that may benefit from the information please share it. Would you like us to create a specific tutorial on a project you're working on,  please let us know by contacting us.
Connect With Us On Social Media
Connect with Downs Property Maintenance on social media platforms like Facebook, Instagram, G+, and YouTube as we are posting relevant content regularly. Project updates, photos of finished jobs, discounts, and more tutorials to come. Subscribe to our blog to stay super connected! Thanks for stopping by and have a wonderful day.